Seemed like the more I run away from Bangkok the more time  I have to go to Bangkok. Last week me and my bf went to Bangkok for Japanese test at Thammasat Rangsit. Special thank to my lovely tiny friend for lovely sofa to sleep few nights. The week before Japanese test , I went to Bangkok for Model Job for Modern Form. Special thank to my same girl again that let me stay at her place included night time food. and god  few days before I went  to Bangkok for my sister's wedding. but this time  my mum strongly command me to go home for let her hug me in her room.Sorry that I don't have photo to show you much. I wish I could have nice camera. Luckily I got photo sent by next girl who I met in my sister 's wedding. So here we go. Enjoy the show.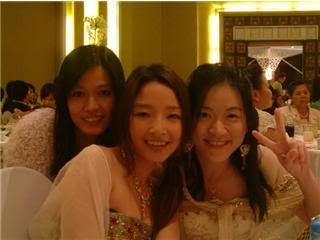 Started by  Three angles.
 Ok... I know you want to see more close focus.. ... you get it !!!
 If I looked too sexy plese forgive me. that must be from four glasses of wine.... : ) 
 that was my brother. and his girlfriend. Special thank to his gf to bring nice cloth for me .. otherwise I have no idea what I would have been in that night.