Another Thai Dish (with pics)
---
Ok I don't know what it call in English. In Thai we call "Kuaytaew Lui Suan" It's lovely one. I like to by it from food vendors on the street, but I don't like the dipping sauce. So I think I should do it myself one day.I woke up this morning and I really wanna eat it. So I went to the big fresh market near by with my dad. We bought everything to do this menu and dinner.Okie!! let's do it.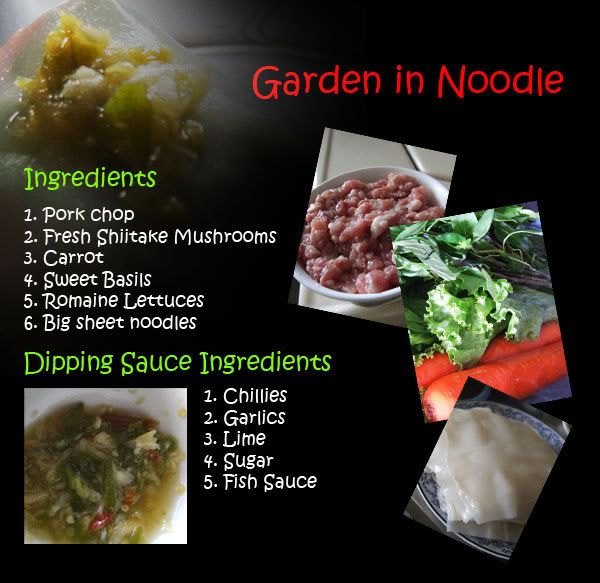 ok now we have everything...Then
Chop carrot in little pieces and boiled it Mix pork chop with sugar + fish sauce + soy sauce + pepper + chopped garlic
Chop fresh shittake muchroom boil it with pork chop Slide lectuce and pick leave of sweet basils.Let's mix the dipping sauceYou can use the grinder or mortar to crunch them... somebody like to do the smoothies but my family not. So I used mortar.Crunch chillies, garlics, then mix lime, fish sauce, and sugar. Taste should be sweet and sour. Time for ....
hehe,
If you don't know what to have for lunch tomorrow... it's good menu naa