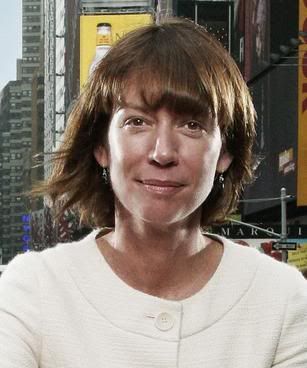 But since Janette Sadik-Khan was named commissioner of New York City's DOT back in 2007, she's been all those things, and so have her policies. Working within the framework of Mayor Michael Bloomberg's PlaNYC 2030 initiative, which sets ambitious goals for the greening of America's biggest city, Sadik-Khan has undertaken a number of kickass initiatives to reconfigure the streets of New York -- giving primacy to people over automobiles for the first time since Robert Moses started running freeways through the city.
She's created hundreds of miles of new bike lanes, inaugurated a hugely popular "Summer Streets" event, experimented with innovations in Bus Rapid Transit, and, most dramatically, pedestrianized two of New York's legendary crossroads -- Herald Square and Times Square.
Q.  You are looked to by many people around the country as an example for the work you've done here. But obviously New York is an exceptional case in a lot of ways -- I think it's easy for some people to say, oh, that'll work in New York, but it's not going to work anywhere else.
A. Actually, I don't think that's true. I think if we can make it work here, you can make it work almost anywhere. My advice is to be bold. The alchemy of sustainable streets is part art and part science. Be bold, have a vision, lay out where you want to go. That creates buy-in for the initiatives that you pursue.
The second thing is you don't have to have a big budget to have a big impact. We've done a lot of transportation on our streets with low cost treatments. Painting curbs, painting green plazas, planters, repurposed blocks from bridge reconstruction projects. You can do a lot to transform a street without a big capital budget.  
People are also tired of waiting years and years to see changes.
I think that's why the New York example has resonated around the country and around the world. In the last three years, we've transformed some really important parts of the city, not spending very much money at all.
http://www.grist.org/article/2010-12-21-Taming-the-mean-streets-of-new-york-a-talk-with-nyc-dot-