<b>It all started from Single party to Welcome WOWter party
It's been a while since I went out 3 nights in one week. It all started from TF's Single party thingy on Saturday night. I know I might not be eligible to go but hey i just wanna have fun and I like Inch a lot esp the cute DJ there, girls u know who i'm talking about right?
It was good to see some ppl i have never met in person like Kenny, Killer_Baby, and Mayo etc. I was really surprised to see my good friend Adam who I havent seen since Halloween party. Golfster and the girls were pretty much energetic! They danced and ran around all night, wow! So that would be my excuse of the reason why we did not talk much that night! Anna told me that i didnt dress properly. How could I dress up in a red long dress? Its a hiphop club and i was not supposed to wear a long dress lol well I just felt pretty much beautiful cos its my new dress! I just love to wear everything in same colour, make it all matched so you know i was a lady in red! Oh you guys should've seen Rich shaking his ass with tonz of girls! yes seriously.
I was like woooooooooo!! He's just too tall for me haha I also brought my friend Oy who i havent met since my university graduation there. It seemed like she was attracted to a lot of single guys that night hehe Kai still thought i was smaller than he thought. Perhaps my red shoes did not have enough high heels lol I think Gai was pretty drunk when I arrived (or not?). I cant remember how many times he lifted me up in the air. I was afraid my head would knock the floor like what happened at my company party on last Friday
My good friend Tam finally arrived at 1 am. I had to wait for her to drink cos our boys left us a half bottle of 'something' label to finish lol So its pretty much more like our girl night out (if you cut the crazy girls dance from the other side of the floor). I have to thank you to Xavier for offering me and Oy some drink! I was glad to get to know more after bumping into you at Top Thonglor
, very sweet cool guy! Chrisghent told me he was missing someone in China and really wished she were there. Wallace crazily took random pics as usual! I remember everyone was having fun teasing me about my boobs bag I wanted to have one since I saw p' Nicky bag journal. I cant remember what time I got home that day but I know for sure that it was pretty easy to get a cap that night. I mean its crazy there. I always have to wait for at least 30 min till a taxi driver would say yes! I didn't take much pictures that night. I was having fun dancing my ass off. So i guess you guys have to wait for some pics from Wallace's camera! hahaha.
I was also happily invited by Babe and Tuck on Kissmas day! It was really nice and sweet of them to think of me
as they knew i would have to spend xmas time alone cos my boy was not here. We went to central world plaza to take some pictures with light decorations and of course the xmas trees! Man I so love this holiday seasons where ppl decorate their shops and streets beautifully. I got myself a kissmas tree last year as well so I would put it in my room for another few months as usual i guess lol I think Babe and her bf got about 3 cameras all together and it was him who had to carry it all hehe We took pictures crazily. It was really fun to do some funny pose! Tuck had unfortunately become my date that night.
cos there's no other guy but us. We had been wandering around central world and finally walked back to Siam Paragon where we took a taxi to Silom. We wanted to find somewhere like Starbucks to sit and drink some coffee but we ended up in Coffee world which was not that bad, pretty much cozy for us i would say. I'd like to thank my friends again for thinking of me dearly. Yes thats what friends are for a lovely quiet XMAS DAY huh? lol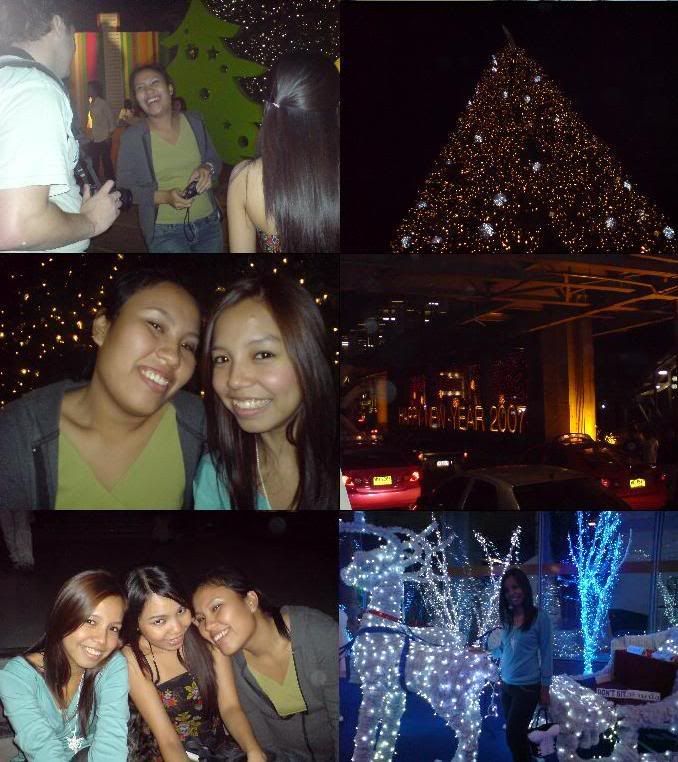 I promised Anna at Single party that I would show up at Wouter party. Ammy told me to be there early cos she had to leave to meet up her pilot bf later. Well it was like reunion for us as I have not been out lately. I could not myself that i could finish work at 7 pm. You guys would never believe that during industrial peak season, I would stay working till 10 or 11 pm mostly. I think its all cos its christmas time and most offices around the world are closed so yeah there're not many emails to read. I think I arrived at Gullivers around 8 something. There were already Anna, Josie, Ammy, Bas, Ralf, Wouter and Piaw. I was the 8th to arrive, not that bad for me as i'm always a late arrival for most parties. Markus and Wallace arrived shortly. I cant remember what Wallace's t-shirt says but it was pretty hilarious! It's too bad that we could only get one small table there. So it looked like a small family trying to fit in one table lol We added a lot of more chairs but to me, i dont think we could talk to everyone perfectly at that moment. Later on, JackyB, Sonny and Randy arrived. I think thats when we added another table and when Ammy left the bar and I left to call my friends Tam and Chris outside. When I came back, I didnt know, there were a lot more ppl coming. So my friends and I moved to sit in another table next to our friends tables. I think this is when music is getting better and ppl started to dance, yeah, finally! This is also when i took off my suit cos things were getting to hot... i mean i got so sweaty, apart from the fact there were also some crazy guys dancing on table topless! More ppl were coming! Ok I didnt know who was who now then. All i know is i felt so good. I had my vodka. I danced my ass off. Most fav music were playing. Yay i had such a good time there. I felt like the bar was closed too early because the next time i know it was 1 am and i had to go home cos I'd still have to work on Wed as my last day at work this year! I heard ppl went to FunkyDojo in Patpong after. I went home and woke up with a real headache for work. if you wanna see some pics, i'd say there're more on Anna and Wallace camera
OH WELL ITS BEEN A GREAT HOLIDAY FOR ME SO FAR! So what have you guys all been doing?